Blue Lobster's Managing Director, Simon Keeble was invited to present as part of a group of experts, for the NextGEOSS Webinar Series. The presentation was entitled "Earth Observation Systems creating products and knowledge for the Mediterranean: The ODYSSEA project" and delivered live on 30th August 2021.
NextGEOSS is a centralised European Earth observation data hub and platform and is funded by the EU H2020 research and innovation programme. As part of the project they have been hosting a series of webinars. This one highlights the ODYSSEA project and the innovative platform created during the project, Marinomica.
Presenters gave an overview of ODYSSEA including an insight into the science behind the Marinomica platform, highlighting the simple functionality of the user experience as well as how it will be developed and integrated into future projects.
Simon presented the Introduction to the Marinomica platform presentation displaying the current capabilities and features of Marinomica starting with a sidebar where users choose the products and parameters they want to see on the map. The maps are interactive so users can zoom in or move around for further information. Dashboards can be created either by the ODYSSEA team or individual users, allowing for a fully personalised experience and saving setups for future visits. Maps can also be shared and embedded externally and external products and services, such as video, can be embedded. Data can be downloaded, including the specific area and parameters the user chooses. Maps can be layered to customise the view and users can view current or time series data for an area.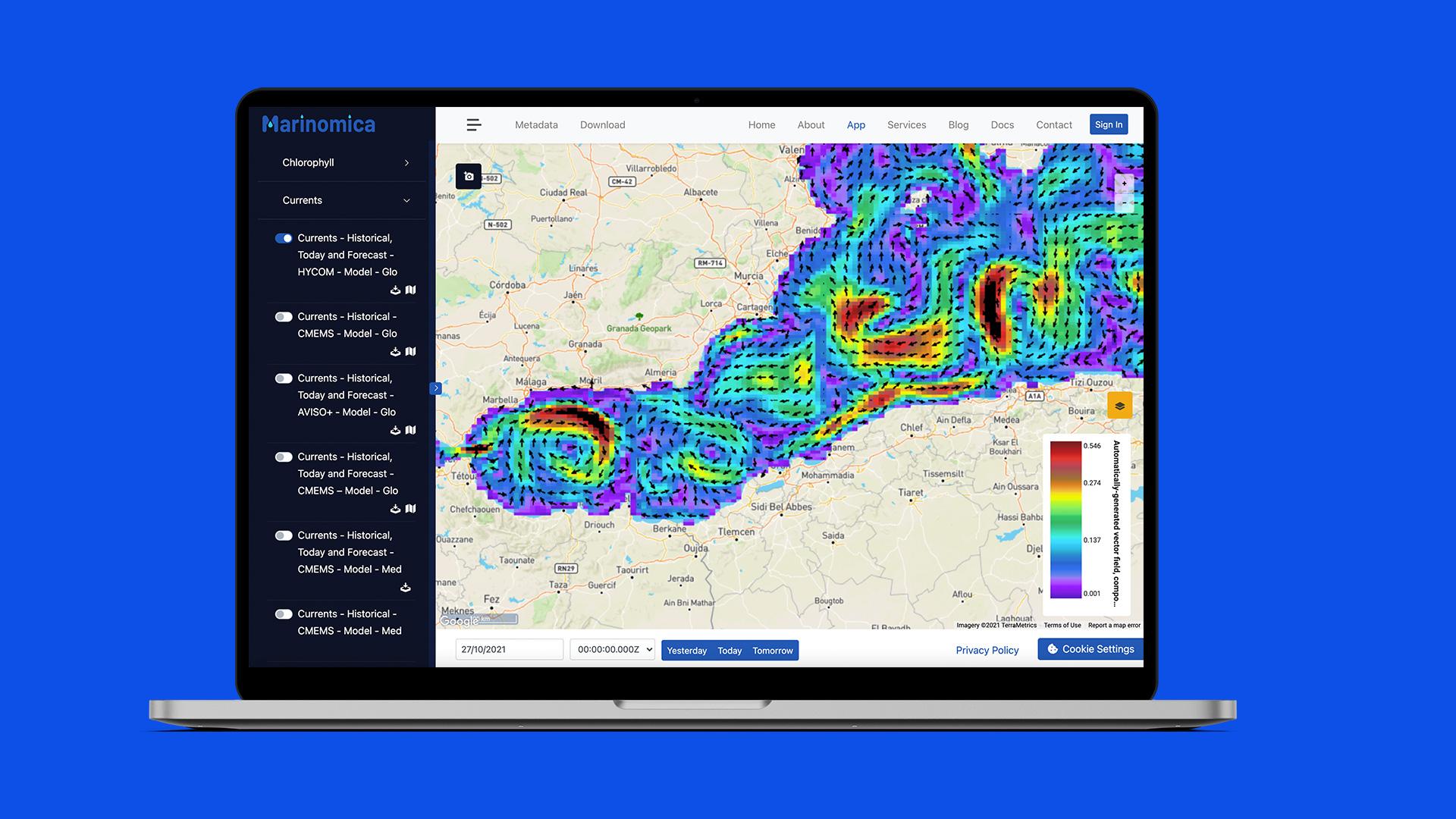 The presentation culminated with news on how Marinomica will be used in future projects. Alongside the outputs of other projects, such as NextGEOSS, Marinomica will be expanded and further developed as part of ongoing and future projects also funded by the EU H2020 research and innovation programme. This includes EcoScope and ILIAD, which starts in 2022 and will create a Digital Twin of the Ocean. Blue Lobster has key roles in software development, communications and dissemination in the ODYSSEA, Ecoscope and ILIAD projects.
The webinar was recorded and is available to view as part of the NextGEOSS Webinar Series:
Earth Observation Systems creating products and knowledge for the Mediterranean - The ODYSSEA project